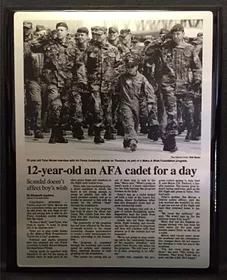 Photo Metal
We have the capability of reproducing photographic images and text on silver or gold metal for plaques, tags or signage. Images are reproduced from color or black and white photos and will last for years. This specialty metal is weather resistant in all extreme conditions and will withstand normal wear and tear. Thickness of metal available ranges from .008" to .032". If this does not meet your requirements, we have several other options available. Overall size can range from the low end (1/2") to the high end (15" x 22"). Let us help you bring you design ideas to life.

Graduation Diplomas
Wedding Announcements
Birth Certificates
Specialty Rulers
Memorial Plaques
Anniversary Keepsakes
Trail Signs
Company Identification Tags
Serial Number Tags
Business Cards
Barcoding
The photo metal meets various specifications, including:
GG-P-455b; Type I, Grade A or , Classes 1 &2
MIL-P-15024D; Type H & G
MIL-P-514D; Composition C
MIL-P-19834B; Type I or II, Style III or Iv
MIL-P-6906B; Para. 3.2.6, Type I or II
MIL-N-18307F; Type H
MIL-M-13231A
MIL-A-8625C; Type II
The aluminum is 1100 Series alloy and is available in satin and matte finishes.